Summary
READ THIS FIRST: From Capture One 21 (version 14.2) Firewire is no longer supported for tethering.
Below are some suggestions on how to improve on a poor tethering connection between the back and computer. I am having connection problems.  What is the recommended configuration when shooting tethered to a laptop computer?
---
In-Depth
If you have a computer with a Firewire port see below:
Force battery mode or use powered firewire hub.
Macbook's, Macbook Pro's and iMac's from Apple do not provide sufficient power to Phase One and Leaf Digital Backs from the firewire bus.
Most portable computers that run Windows do not provide any power from the firewire bus
Below are suggested configurations when shooting to a portable computer such as a PC or Apple laptop and iMac's. This solution should be used for some specific desktop Apple computers such as iMac or Mac Mini. These computers do not provide enough power through their firewire ports to completely support the digital back in tethered mode.
H-series backs:
A powered firewire repeater is required. Please see below for recommendations.
P20, P25:
The back is not able to use battery power when tethered to a computer unless you follow the instructions listed below. Connect either the "No Power Firewire Cable (Item No. 70508)" solution or the Capture Integration FireWire Port Isolator; this forces the back to use battery power. OR You can use a powered firewire repeater.
P45, P30, P21, and All P+ backs:
Set the unit to "force battery mode". This refers to a situation when the back will be forced to use battery as its primary source of power even though it is connected to a computer via firewire cable. To activate this mode, please access "Menu" on the digital back and select > "Configuration" > "Power Source" > "Battery" > Choose "Green Check".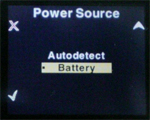 IQ1xx, IQ2xx, and Mamiya Leaf Credo:
These backs require and will only draw power from the battery so no additional hubs are required.  If connecting directly to a portable computer battery charging should be set to Off in Power Management. If you want to charge the battery as well, connet via a powered firewire repeater.
Aptus, Aptus S, and Aptus II:
Aptus backs cannot use battery while tethering so all power must come form the firewire cable.  To provide enough power to run the back you must connect via a powered repeater.
What Firewire Repeaters are recommended?
Unibrain FireRepeater-800 Pro 5 port
Lindy 3 port Firewire 800 repeater
Firewire 800 Hub repeater - 4port
With all repeaters is is critical that you use a capable power supply.  Recommend DC 12V, 1.25 - 3A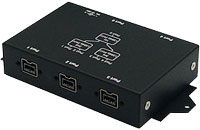 What is the Power kit for PowerPhase FX (Item No. 70506)?
Repeater and AC adapter. Can be used as a substitute for the battery in the portable solution.
If you want to use the portable solution with an AC power supply please order the power kit.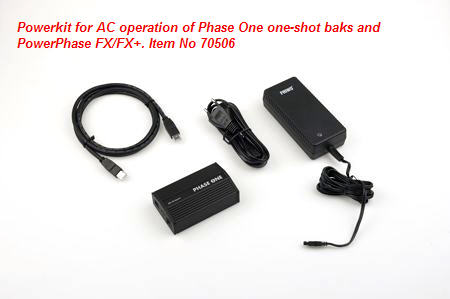 Please Contact your Phase One Dealer to order these components.
---