Summary
To use the Sinar eControl with a Phase One IQ4 100 or IQ4 150 digital back.
---
In-Depth
The default predelay time in the Sinar eControl box is 100ms. This will be too fast for the IQ4 and it will most likely overexpose the blackframe or give you a "CamIf: Abort Capture error" error.
To avoid this you need to set a custom predelay on the eControl to 400ms.
By turning the thumbwheel set the pre-delay wake-up to ON
This is indicated with the little bell icon

When pressing the thumbwheel for longer than 1 second, a menu is displayed where the pre-delay time for the wake-up of a digital back can be set
Set the predelay to 400ms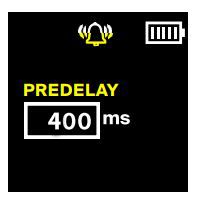 You will now be able to capture an image without an error